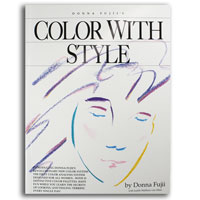 Donna Fujii, AICI, CIP, devoted 12 years of study and consultations with every variation of skin tones and haircolorings in her San Francisco Bay Area consulting practice to do the background research for her landmark best-selling color & style guidebook, Color With Style.
Originally published in 1990 and now in it 8th printing and 4th language edition, Color With Style has become an enduring classic, and is essential reading for students of color analysis and multiethnic color analysis all over the world. Her acclaimed multiethnic color analysis system is being practiced by graduates of her school in at least 14 countries around the world and is a required classroom text in beauty and fashion courses at colleges and fashion schools throughout the US and the Asia Pacific region.
Learn Donna's secrets of harmonizing wardrobe and makeup colors with all skintones and hair colors, and even combining warm and cool colors in certain situations for a distinctive look. She also examines colors and style for certain body types and style personalities to give the reader exciting options beyond the old traditional approach. The end result is a transformative, life-changing experience in building one's distincive self-image with an unforgettable personal style that one can truly call their own.
Read Color With Style, and gain insight into the total, put-together look that everyone strives for but few actually are able to achieve even once, much less on an everyday basis.
Click here to order your book today!