About Us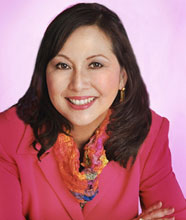 Welcome to the Store @ Donna Fujii Institute! Today more than ever, women are defining themselves as individuals for whom beauty comes from acknowledging and accepting their best self. When my multiethnic color analysis method was popularized by my best-selling book, Color With Style, it allowed women to see themselves in a new light - by celebrating color and using it to empower themselves every day.
Now, through the Donna Fujii Institute Web site, I am pleased to offer our new cosmetic lines and professional image consulting products that grew out of my color analysis method and my training schools in San Francisco and Tokyo.
Before entering the store, we recommend that you find out your color category by completing the Color Self-Analysis test . Then, we can recommend the very best makeup colors for your skin and hair coloring. Also, take the Skin Type Self-Analysis test , so that we will know which skin treatment products to recommend to you.
All my best, Donna Fujii
P.S. I am so sure you will love all of our products, my signature is my personal guarantee of your 100% satisfaction - or your money back.
Categories